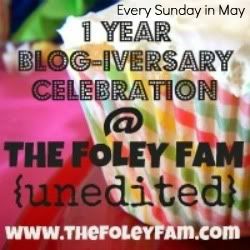 HI guys!!!
My girl Kristine from
The Foley Fam
is celebrating her first Blog-iversary
ALL MONTH
!!!
She's a great gal if you haven't gotten a chance to meet her then definitely make it a point to stop by after this post! I will be keeping the button above on my sidebar so you can easily navigate to her page!
The Foley Fam is a blog that I love to read EVERY POST. Kristine is patient, kind, funny, generous and most importantly GENUINE! It's great that she shares so much of her life with us, she's a great mommy and a great blogger. She's even got this really neat shop on
Etsy
!
One of my favorites is this newborn headband!! Such a cute spring/summer accessory!
I have participated in giveaways with her, she is a great person to work with, and her posts are a whole lotta fun! I am pleased to say that I will also be in her first giveaway of the month!! So be sure to keep on the lookout for when that happens!
Happy Blog-iversary Krisitine!!! I admire you and your work and it is a privilege to be your friend! I wish you just as much success and then some in the years to come!! :)